From haute cuisine to cocktails & BBQs
The American Colony has a proud reputation for impeccable cuisine and flawless service.
Start your morning with an omelette, made to order, in the famous Courtyard. Enjoy choice cuts of meat, fish and produce on our charcoal grill under the stars in the Summer Bar. Take a seat by the fire in Val's Brasserie for a warm winter's meal, or dine in style in the Arabesque dining room.
The Arabesque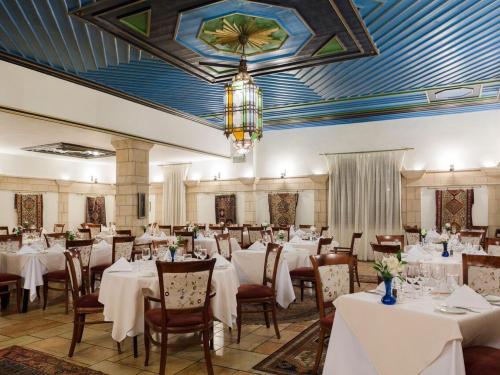 The main dining room of the hotel, located in the Main House. In a gracious traditional setting, we offer a varied menu which includes Middle Eastern dishes as well as a varied international gourmet menu. In The Arabesque we serve international and local wines including some from the many boutique wineries in the area, from bottles stored in our private wine cellar.
The Courtyard
Leading straight off our Lobby, this is the heart of the American Colony Hotel. This celebrated Courtyard has hosted many famous guests. Shaded by tall mulberry trees throughout the summer and cooled by a central fountain, this leafy outdoor restaurant is warmed by the sun on winter days. Open when weather conditions permit, this is the perfect place for breakfast, lunch or dinner.
Val's Brasserie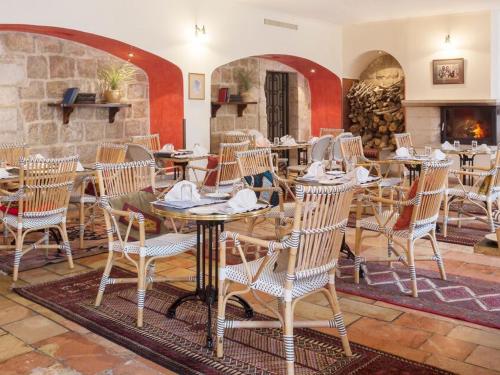 Overlooking the pool and adjacent to the Cellar Bar, this informal setting provides lunch and dinner during the winter months. Guests can enjoy favorite local dishes, continental specialties and quick snacks in a cozy and relaxing atmosphere. Afternoon tea, a British classic, is served here daily from 3:00 p.m. – 6:00 p.m. with tea, a variety of sandwiches, scones with strawberry jam and fresh strawberries or English cake.
The Terrace Cafe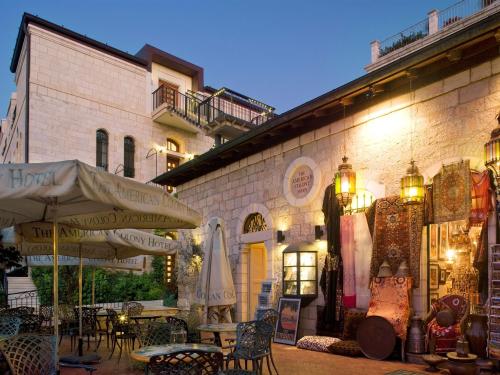 Situated by the hotel shops and at a focal point in the hotel complex, this café gives you a commanding perspective on the comings and goings of the hotel. Breathe the fresh Jerusalem air, sip a cappuccino or enjoy a cool drink and a sandwich - this is the place for a quick pause in your day.
The Cellar Bar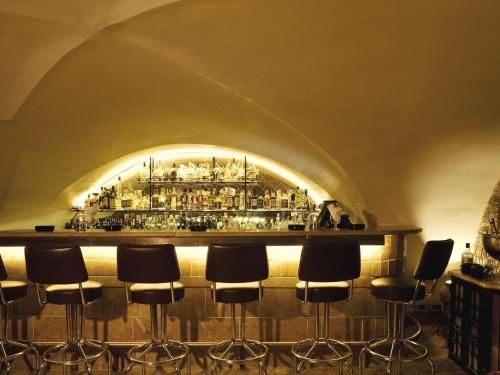 Once the American Colony dairy, this is Jerusalem's most enchanting and intimate bar. Floored with ancient pink stone, this legendary bar is a place to unwind for visitors and residents, and a popular meeting place for journalists from across the world.
The Summer Bar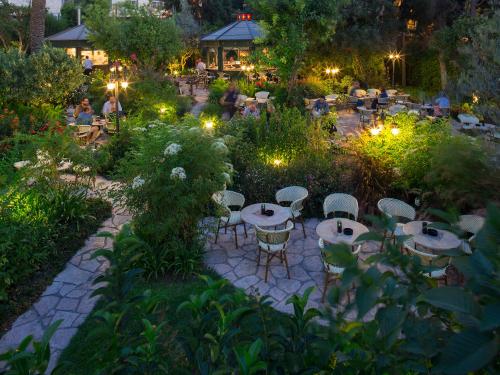 This popular bar and barbecue, open during the summer months, is set in the romantic tranquillity of the Palm House garden. You can meet all sectors of Jerusalem's multi-cultural population along with foreign tourists. Let our friendly, professional bar tenders serve you with exotic cocktails, local and imported beer on draft, or wines from our cellar. Try pizzas and focaccia from our newly built wood burning pizza oven.